Galerie ZeitZone, Adalbertstr. 79, 10997 Berlin. Geöffnet Do Fr Sa ab 19.00
Unsere Räume können für private Veranstaltungen gemietet werden.
(mehr...)
Konzert

Mi, 27. September 2023, ab 20 Uhr:


miniLab #3


Musikexperimente @ Galerie ZeitZone

Die dritte Ausgabe des miniLab Projektes bringt zwei Musikerinnen aus der Berliner Szene: die brasilianische Gitarristin Laura.aLL und die japanische Komponistin und Pianistin Rieko Okuda.
Rieko Okuda wird in diesem Konzert experimentelle und improvisierte Musik spielen, mit Objekten und Electronics.
Laura.aLL spielt neue Kompositionen für akustische Gitarre, in Richtung Ambiente / Experimentelle Musik.
Die beiden Künstlerinnen spielen am Ende eine Live Improvisation.

Das Projekt miniLab ist ein Raum für Musikexperimente, offen für experimentelle, ambiente und improvisierte Musik.
Es wird jeden letzten Mittwoch im Monat stattfinden.


The third edition of the miniLab project brings two musicians from the Berlin scene: the Brazilian guitarist Laura.aLL and the Japanese composer and pianist Rieko Okuda.
Rieko Okuda will play experimental and improvised music in this concert, with objects and electronics.
Laura.aLL will play new compositions for acoustic guitar, in the direction of ambient/experimental music.
The two artists do a live improvisation at the end.

The miniLab project is a space for music experimentation, open to experimental, ambient and improvised music.
It will take place every last Wednesday of the month.


**
Rieko Okuda is a pianist and a composer from Japan. She began to play Classical music at the age of 3. She also studied Music Therapy at Doshisha Women College. Music Therapy led her into Contemporary music and Improvised music.
After she graduated from college, she moved to USA to study Jazz music. She fell right into the Jazz scene in USA, performing with some of the great American Jazz musicians (Bob Mintzer, Jon Faddis, John Fedchock etc) at several jazz festivals such as North Texas Jazz Festival, Nortredam Jazz Festival to name a few. A couple of years later, she got interested in Free Jazz and Improvised music while she was in Phliladelphia.
She performed with the great improvisers includes Marshall Allen (from San Ra Orchestra), Elliott Levine (recorded with Cecil Taylor), and Calvin Weston (recorded with Ornette Coleman). Her interests in Improvised music led her to move to Berlin. She performs with various musicians in Berlin, ex. Tobias Delius, Axel Dörner, Els Vendaweyer, Linda Frederickson. Also she collaborates with contemporary dancers such as Yuko Kaseki, Akemi Nagao, and Annapaola Leso (from Sasha Waltz.)
She performs at several experimental festivals: A'Larme Festival, JOE Festival Essen, Brda Contemporary Music Festival, XChange Festival, Experymental Festival, Flux Festival, and Soundance Festival to name a few. In 2017 and 2018, she got the residency in Elektronik Music Studio (EMS) in Stockholm, Sweden. This residency experiences inspired her to Electro-Acoustic field, and she started to invite the electronics to her piano solo pieces. Her first Electro-Acoustic solo album "Paranorm" was released from Japanese record lable, Athor Harmonics, on Feburary 2018. "Paranorm" was performed at Koncertkirken Blagards Plads (DK), Ausland, FLUX Festival (DE), and Vardklockans Församling (SE).
In 2020, she has gotten the residency in Visby International Centere for Composers (VICC) to extend her experience, and find more possibilities to create various sounds and composition techniques.
http://www.riekookuda.com/


*
Laura.aLL (aka LauraL, Laura Leiner) is a guitarist, experimental composer and curator.
She is an artist and researcher with a multi-disciplinary background encompassing music, performing arts, sound art, video and communication-journalism. Her work ranges from experimental art to ambient music, deep listening, field recordings, psychedelic rock, electroacoustic, noise and minimal.
Her Band M.i.p.V (Músicas intermináveis para Viagem/Endless music for Tripping), a guitar-drums trip rock duo that started in Brazil, turns 20 in 2024.
https://lauralmusik.wordpress.com/
https://lauraall.bandcamp.com/album/soundcloud-collection


**
miniLab #3
Wednesday / Mittwoch, 27. September
doors: 8 pm / 20 Uhr
concerts from 9 pm / Konzerte ab 21 Uhr

with/mit
Laura.aLL (solo set/ acoustic guitar, ambient, experimental)
Rieko Okuda (solo set/ objects, electronics)
Laura.aLL + Rieko Okuda (duo/ improv)

admission/Eintritt: donation/Spenden basis: 5 - 10 EUR
Galerie ZeitZone
Adalbertstrasse 79, Berlin-Kreuzberg

**
powered by Yellow Castle- arts & actions
curated by Laura Leiner _ @lauraleiner9911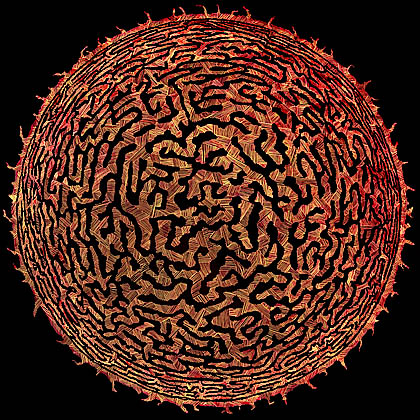 Ausstellung

Fr, 8. September 2023, ab 19 Uhr:


Ernst Kutyn: "Objekte im Licht"


Ernst Kutyn aus Minden begann 1989 mit Kunstlicht und dessen Wirkung auf verschiedene Materialien zu experimentieren.
Beim Betrachten mancher Werke sieht man sich selbst in die Augen.

Weitere Objekte sind Wandlampen aus Metall, deren Licht erst an eine Wand und dann in den Raum strahlt.

Motive und Formen dieser Arbeiten lassen viel Raum für Fantasie.