Galerie ZeitZone, Adalbertstr. 79, 10997 Berlin. Geöffnet Do Fr Sa ab 19.00
Unsere Räume können für private Veranstaltungen gemietet werden.
(mehr...)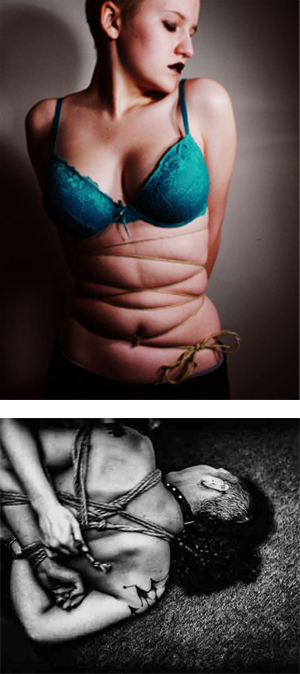 Vernissage
Freitag, 11. August, ab 19 Uhr


"I create Reality"

- Fotoausstellung -

I create Reality reunites three photographers under the various themes of one's relationship with the body, beauty and ugliness, cruelty and torture, masks and fetishism.

Embodying the I of the exhibition is young photographer Hannah Kreuzer. Spotted at the age of fourteen by a Munich gallery, her subjects focus on herself and self-portraits. Her pictures have sometimes a link to kink and cruelty, focusing on materials and postures that reminds the viewer of his own dark self.

MagLau's work on fetishism and BDSM party is not even close to glamour. It depicts the sometimes harshness of the milieu and throws it in the visitor's face. Which is why MagLau is the last part of the exhibition, Reality. The photographer is a double entity; he has created his own pseudonym out of his name and his companion's name, who has escorted him through his visits to BDSM parties across Europe, out of which came out his book, "Fetish Ballad".


Curator:
Natacha Lhomme Fontaine
natachalhommef@gmail.com

Ausstellung bis 31. August.
Vernissage
Freitag, 1. September, ab 19 Uhr


"A Belgian Perspective"

- Photography exhibition -

Stieven Rogiers and Vicky De Bruyne are two Belgians, washed up on German shores. They met here despite being from neighbouring towns back home and soon realized they had a common passion for photography. This is their first joint exhibition.

Common themes are cityscapes and landscapes. Vicky had a passion for portraits and travel photography. In this exhibition, Stieven focuses on the forgotten buildings of Berlin.

www.stievenrogiers.com

www.vickydb.com


Ausstellung bis 5. September.